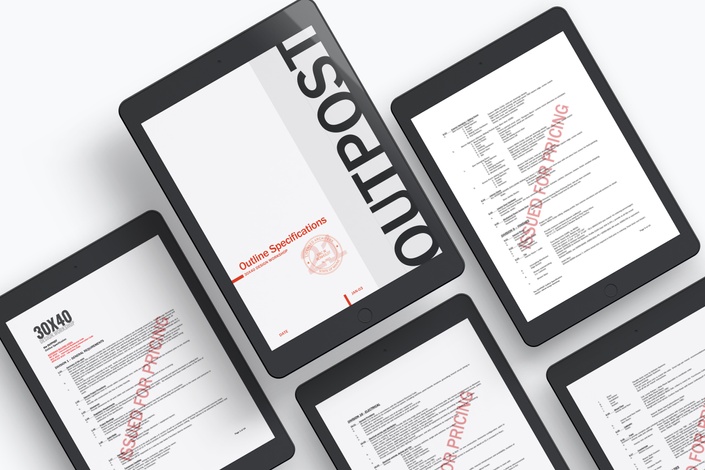 Residential Outline Specification Template
30X40's Residential Outline Specification + Schedules
Watch Promo
Save time by starting with the right template for your residential project specification. A specification is a simplified listing of all the materials, expectations, standards and performance criteria for your project. It lists, in detail, all the information that the drawings aren't able to. This is the outline specification I use as the starting point for all my residential architecture projects at 30X40 Design Workshop.
Latest update published: January 20, 2023
26-page Residential Architecture Outline Specification Template
Microsoft Word (.doc/.docx) Formats Included
Template includes Embedded Styles so it's easy to change fonts + formats
Swap in your Logo for the Placeholder in the Header
Fully customizable + editable to your standards
Cover sheet template (.PSD Photoshop file)
**NEW** Schedule templates (.docx/.doc) Formats Included (plus example images showing completed schedules)

Appliance schedule
Door schedule
Electrical schedule
Hardware schedule
Paint schedule
Plumbing schedule
Wall type schedule
Window schedule
See the how Eric organizes his drawing set, schedules + specifications in this video.
Architectural Specifications form an important part of the Contract Documents; they describe - with specificity - aspects of the work that the drawings can't. This specification has been carefully crafted, revised and developed over many years in my studio. You can use this as the foundation and starting point for creating your own custom set of specifications, tailored to your work and standards. Because my practice is focused on residential arcitecture, this document has been designed to be used for light wood construction and covers projects of residential scope + scale.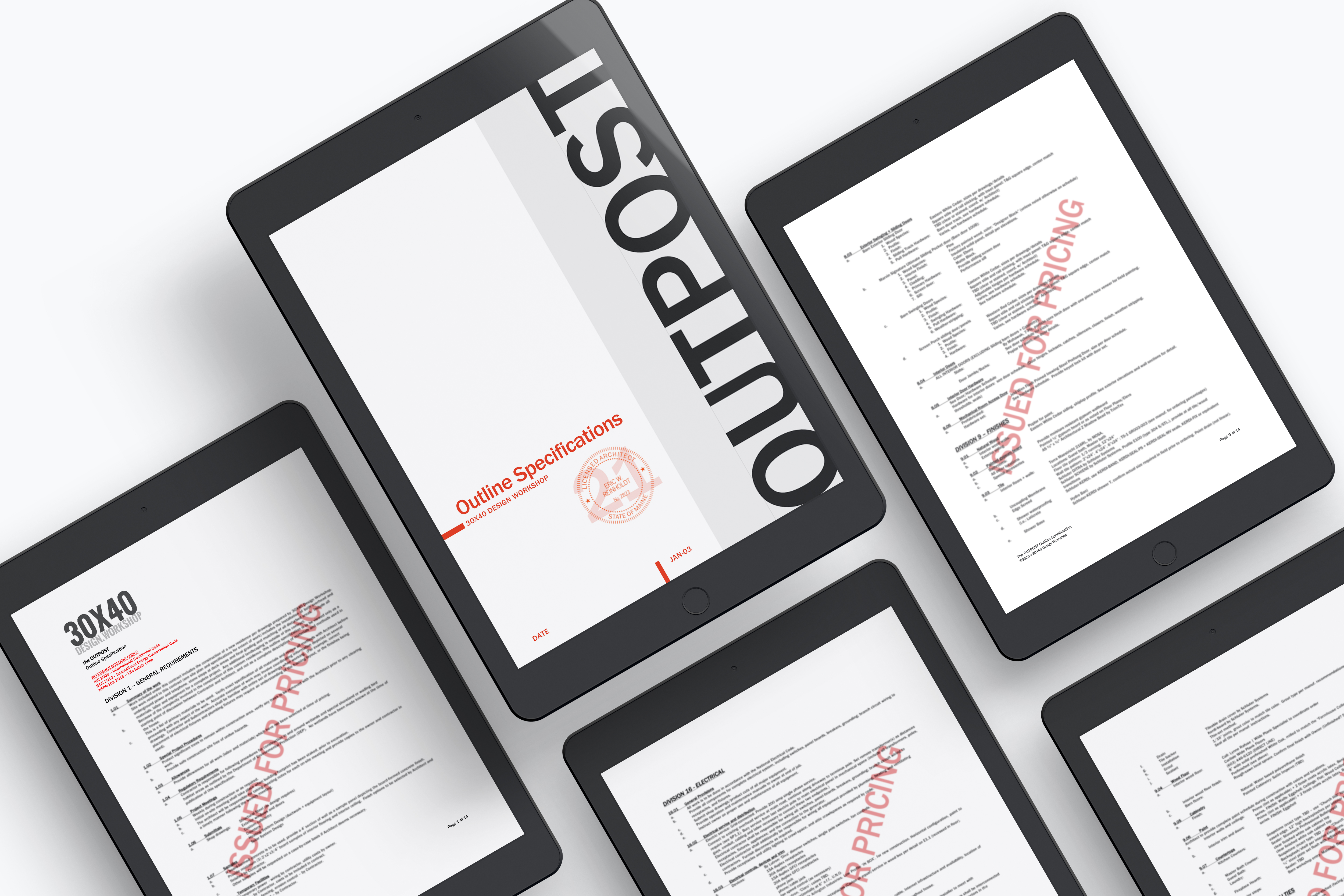 These are NOT 3-part specifications, they are outline specifications, meaning they're general in nature and describe systems, reference some manufacturer's + products, materials + thicknesses. Some aspects of the work are described in general terms using performance requirements. For example: how a structure is expected to perform during a blower door test. You'll want to review this document carefully and tailor it to your needs, treating it as a template for crafting your own personalized version.
Why do you need them?
Specifications include references to aspects of the work it would be difficult or impossible to include in your drawing set. They cover information and details you might not have thought to include as well. They complement the drawings and make the pricing or bidding process more efficient ensuring you're left nothing to chance or for someone else to decide for you. They're part of making sure you have a complete project and accurate pricing.
Divisions Included (CSI)
Division 1 - General Requirements
Division 2 - Site Construction
Division 3 - Concrete
Division 4 - Masonry
Division 5 - Metals
Division 6 - Wood + Plastics
Division 7 - Thermal + Moisture Protection
Division 8 - Doors, Windows + Hardware
Division 9 - Finishes
Division 10 - Specialties
Division 11 - Equipment
Division 12 - Furnishings (Limited Information)
Division 13 - Special Construction
Division 14 - Conveying Systems (No Information)
Division 15 - Mechanical Systems + Plumbing
Division 16 - Electrical
These will save you time and provide the foundation you need to build your design business on. They can be treated as an expense to invoice through your project, or as a general business expense.*
*Always consult your tax advisor for details.
What Others are Saying...
"Loving the spec, it's nice to have a concise template. Having spent the entire weekend cobbling together 20 years of specs from my archives I hope this shows you the value: it took me two hours of reviewing your spec template and a few hours tweaking it to be my template and it's totally worth the money compared to the time it would have taken to cull down and polish the behemoth I was developing. Thanks!" - A. Lynch

"I purchased the Outline Specifications and the AutoCAD template last week. Both will save me a ton of time and help me produce better plans. Thank you for making these resources available to others at a reasonable price!" - K. Kenner
"Incredibly helpful information included. Such a useful reference...thanks!" - L. Taylor-Brown
"I want to come work for YOU! Simply great stuff." - T. Pope
"Thank you for ensuring great design and lean business practices gets passed along. I am very thankful to have found your content!" - Tara W.

"I've been so inspired by your efforts and personally have seen you as a true teacher that reaches out to the broader interest in such a refreshing manner. I've purchased your procreate template as well as your residential specification template and they're wonderful. Great, great effort and very, very inspirational. Simply, thank you." - J. Bibb
Course Curriculum
30X40 Design Workshop's Residential Outline Specifications
Available in days
days after you enroll
Frequently Asked Questions
Is this a course? Will it teach me to write specifications?
No, these are templates to help you craft your own set of custom, branded outline specifications using 30X40's template as a starting point.
I live in (a country outside of the USA) how will it work with my local standards?
To be perfectly candid, I'm not certain how the spec will compare with your country's standards as I'm a licensed professional exclusively practicing in the USA. I can say, that design professionals from all over the world have purchased it and been able to adapt it to suit their needs. Assuming a modest professional billing rate here in the USA of $150/hr, my quick math suggested it would be nearly impossible for a professional to rough out a spec in templated format, a cover sheet and all the schedules I've included in less than two professional hours of billable time. This, I believe, makes it an incredible value!
What file formats are included?
Files are natively created in Microsoft Word (.doc/.docx) and Photoshop (.PSD) for the cover sheet. You'll find that most softwares (paid + free) are capable of importing and editing these files.
Are these "ready-to-use" or do I need to review and update all the code-related values?
You'll find that the template is 'ready-to-use' but, as with anything where materials, systems and details differ you'll have to verify whether certain aspects of the spec are applicable to your project and fine tune to meet your specific needs. The specification does make a few general reference to code standards and these are flagged in red for your review so you may update and alter them to meet your specific location's requirements.
What's your refund policy?
As these are digital assets you receive immediately upon purchase I'm not able to offer refunds.
Your Instructor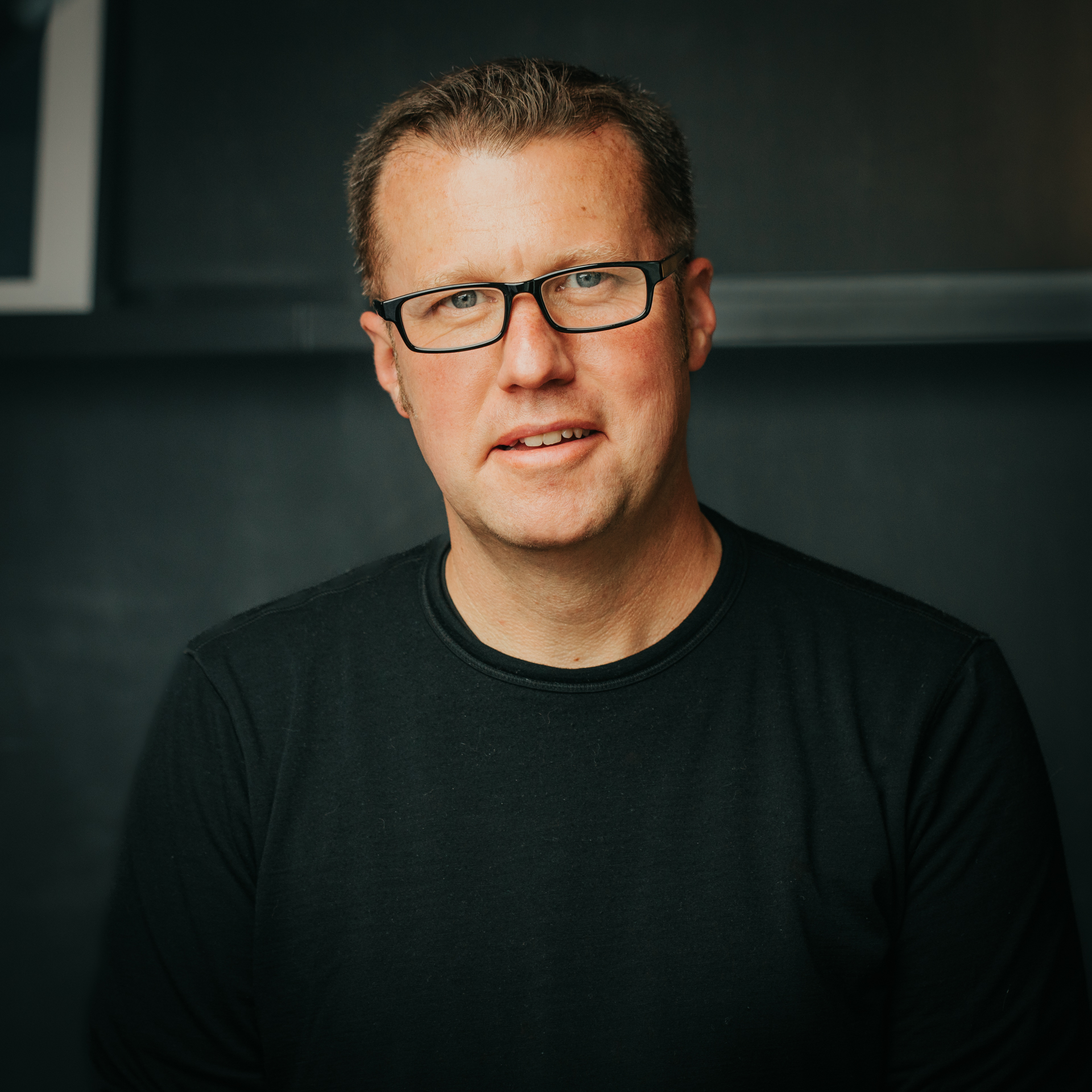 I'm an award-winning architect, entrepreneur and founder of 30X40 Design Workshop, a design studio located on Mount Desert Island, Maine. I'm also author of the Architect + Entrepreneur book series and creator of the most popular architecture-focused YouTube channel online. I've been designing simple, modern residential architecture for more than 25 years and a practitioner of all the novel, entrepreneurial business strategies I teach in my courses.
(More about me in this short film.)