Imagine your business a year from now. How much revenue are you earning? What kind of projects are you working on? What are you doing more of? What are you doing less of? Imagine waking up to a Monday morning without the stress of wondering where your next dollar is coming from. Your to-do lists are manageable, your task list focused only on the things you want to be doing. You have systems in place to handle new leads, systems for earning while you sleep, systems that take the tedium out of your daily routine.

You have time to think. Time to create, time to be creative. Time for your family. The time you spend, you're working on the business, not in the business. You're strategic, not reactionary. You have the freedom to say "no" to the things that aren't a good fit. You have enough. Enough money in the bank, enough time with your family and friends and you're doing work you enjoy.
If this sounds like somewhere you'd like to be, this course is for you.
You don't have to defer the dream, this day is attainable, it can be your every day. I say this with confidence because I've been there too. Frustrated with a professional life that wasn't what I had envisioned. And so, I left a "safe" job and a steady paycheck in search of a more fulfilling creative practice of my own making.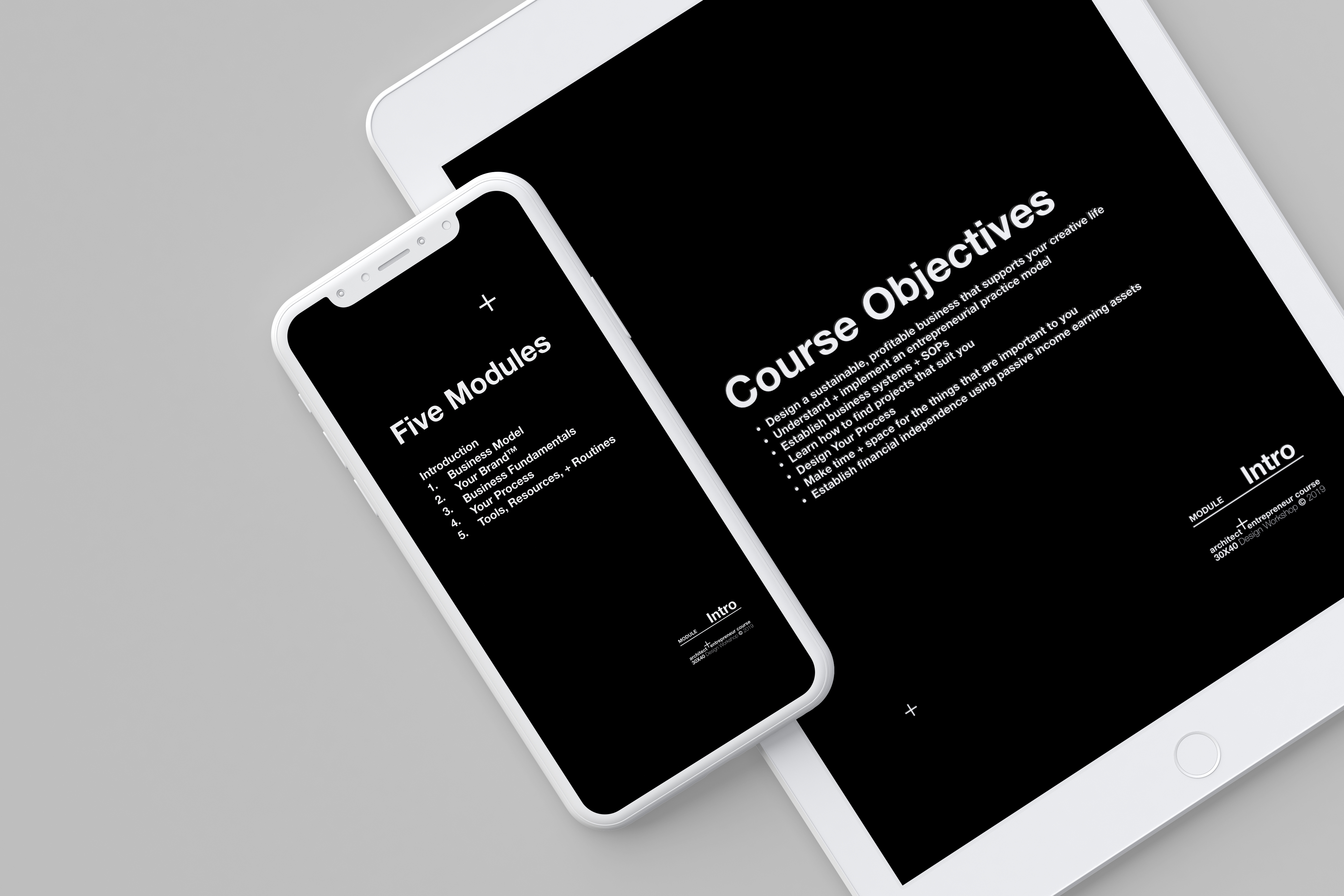 This course shares the lessons I've learned since starting my entrepreneurial practice, 30X40 Design Workshop, in 2013. I've designed it as an accelerator, to move you from struggling to successful. From idea to implementation. You'll learn the strategies and tactics I've leveraged to earn a living as an independent creative professional.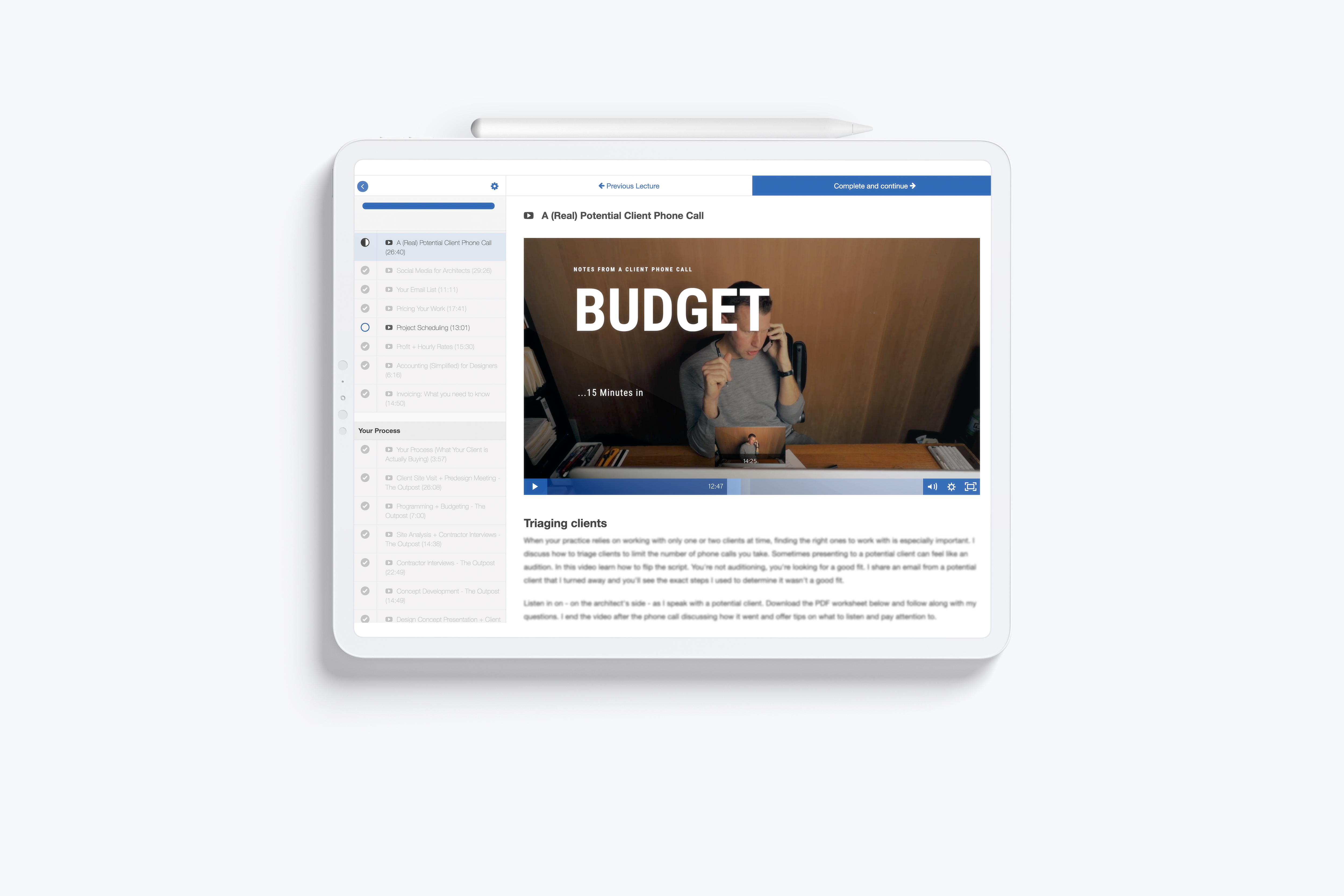 Whether you're just getting started or you've been at this a while and you're not where you'd thought you'd be, you'll find valuable lessons here. I share what saves me time and makes my business more money each month. The curriculum provides a framework and a set of actionable steps that will help you put in place the systems required to design a business that works for you. You'll have the freedom to choose what you work on each day, a purpose driving you forward and the time to spend on the things in life that really matter: your personal relationships.

Without the freedom to chose what I work on each day, a purpose driving me forward and strong personal relationships I don't consider myself successful. How you judge success may be different. Maybe your metrics are financial, maybe you want to run an international team, or win the Pritzker or travel full-time. There are no right answers, only ones that are right for you. This course teaches you to work with intention, toward goals that matter.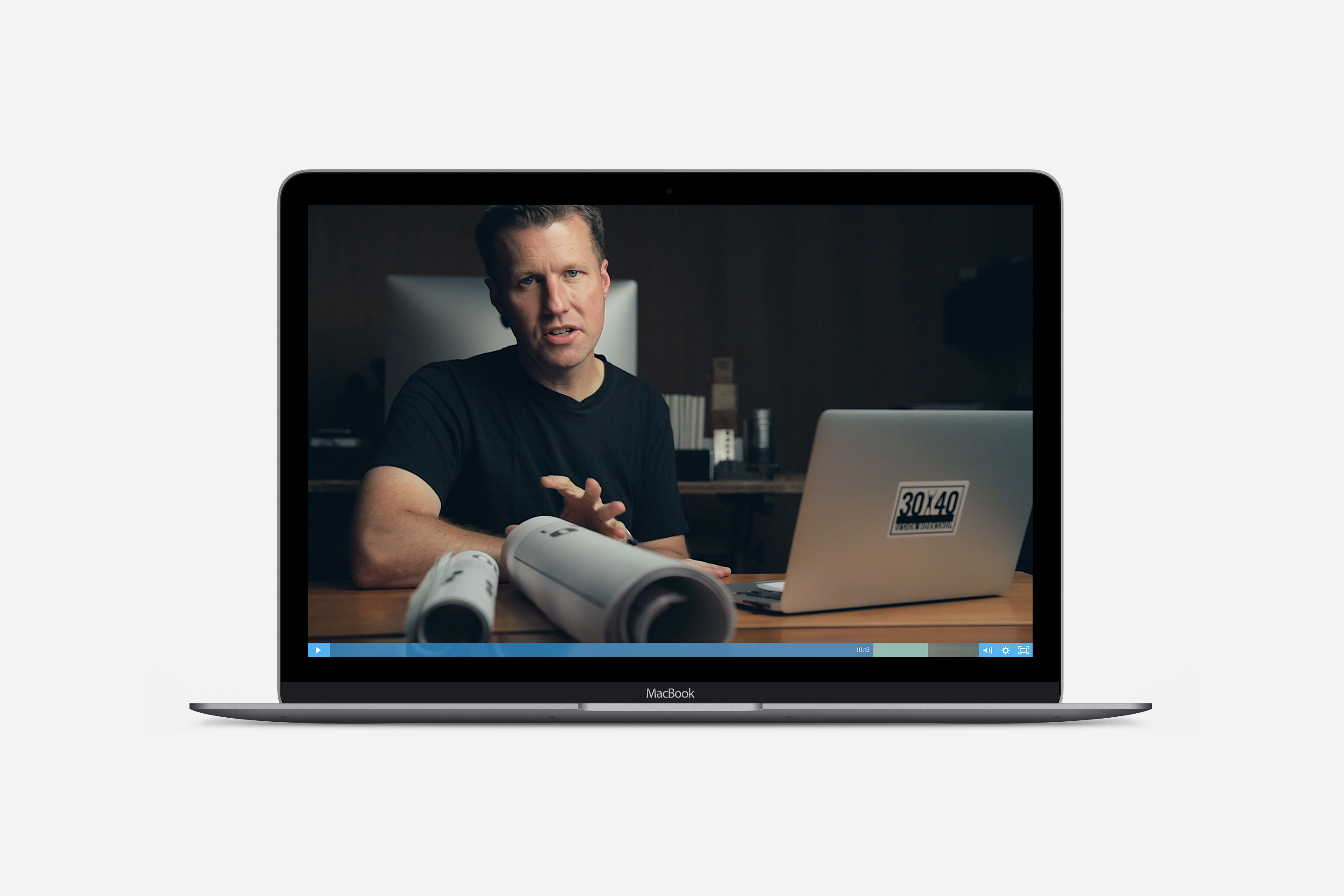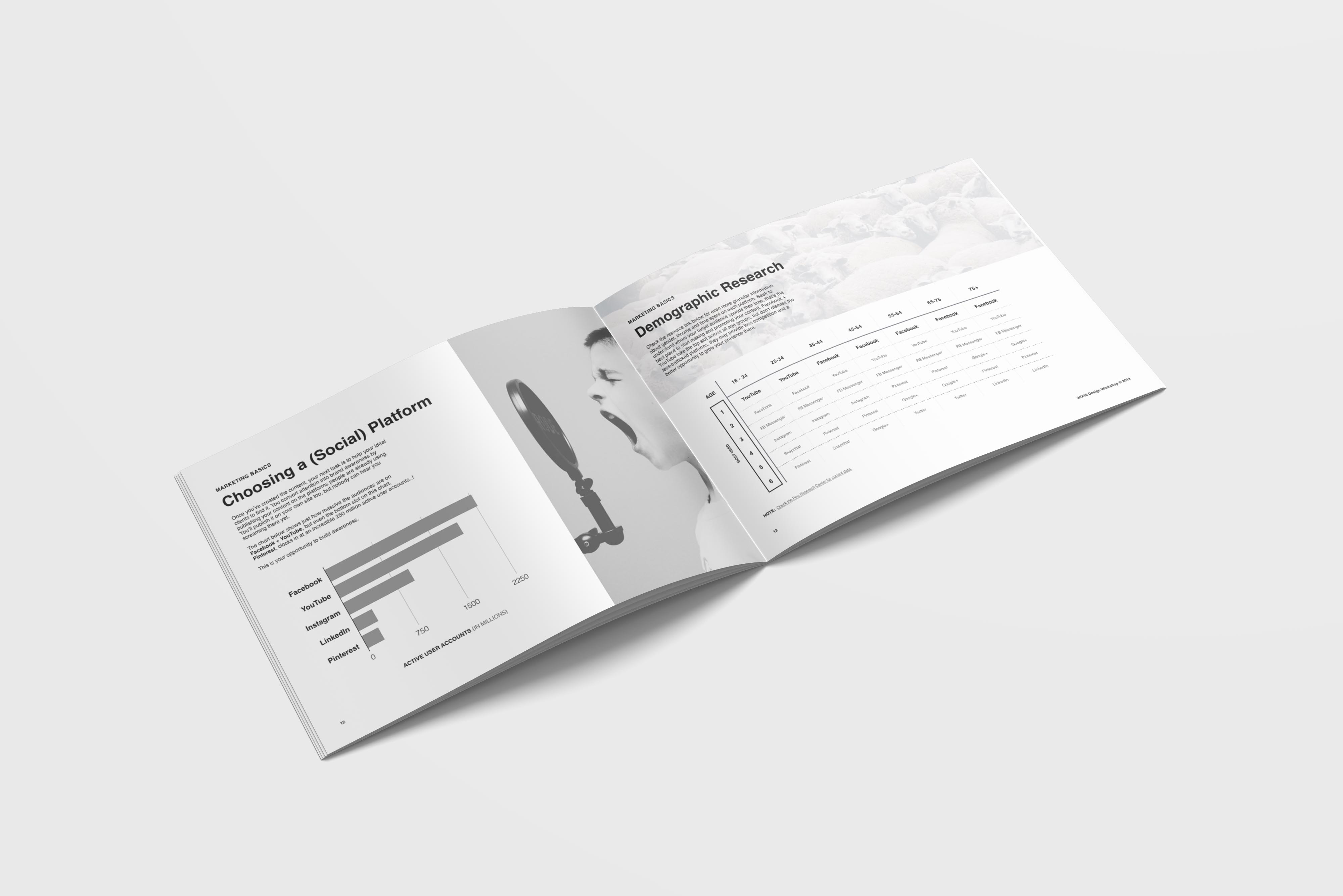 When I started 30X40 Design Workshop in 2013 I was focused on building a non-traditional studio. I wanted to design homes, but I wanted to design other things too. As a creative person with many interests, I wanted a business that would allow me to explore them all. I made a very simple shift in the way I practice and this course will show you how to make that transition too. The principles I'll teach you will build creative white space so you can do more of the things you want to do. It's completely possible to design a business that serves your financial needs, supports your family and also feeds your creative intellect. And, it doesn't matter if you live in a city, a suburb or a remote island - like I do - when you apply the principles of entrepreneurship to reinvent a conventional practice model you'll earn more and have more time for the things you enjoy.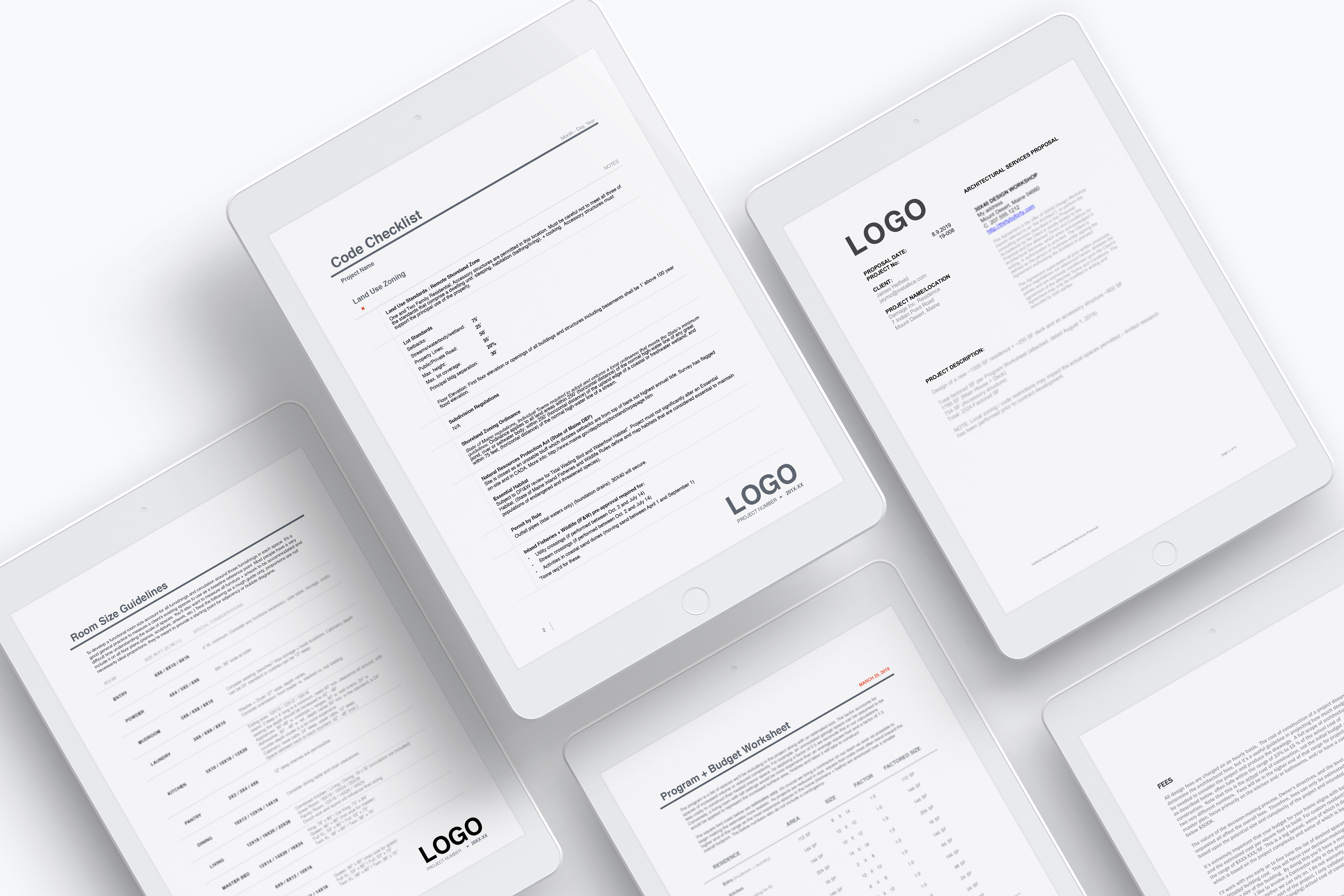 The course is sequential and will guide you from no business and no brand, to an operational, lean startup business. You'll learn what systems I have in place, how to build a brand that caters to your ideal client, how to market to those clients and earn passive income while doing so. You'll discover how to use your design process as a marketing device and you'll see some of the other creative pursuits I'm able to pack into my day, the things you probably don't have time for now.

Whether you have an established business or you're just getting started, this course is designed to help you find better clients, give you the freedom to do work that matters to you and earn more doing it.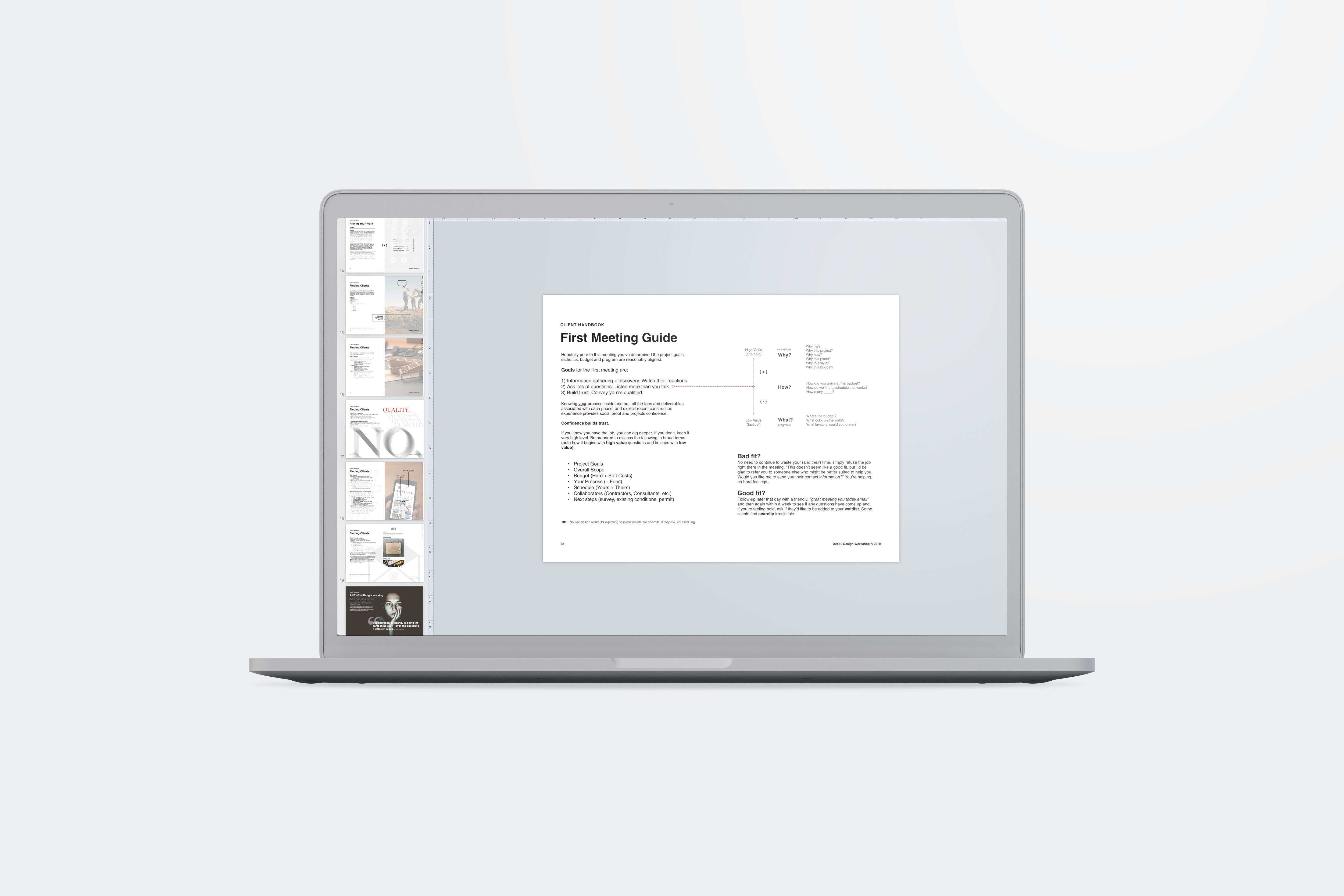 What's Included?
Client Handbook (25-page PDF)
Branding Workbook (16-page PDF)
Marketing Workbook (24-page PDF)
Passive Income Product Workbook / Ideabook (21-page PDF)
Financial Handbook (12-page PDF)
*New Case Study*: What Your Client Really Wants (It's Not What You Think)
*New Case Study*: Architecture Business Plan Reality Check
*New Case Study*: The Design-Build Conundrum (BTS audio consult)
$100K "Hyperfine" Case Study + (PDF)
Financial KPI's spreadsheet
Contractor Interview Checklist + sample
Budget Proposal Template
Services Proposal / Terms + Conditions Examples
Project Fee tracking spreadsheet
Invoice sample
Break Even Analysis spreadsheet
Passive Income Product Revenue tracking spreadsheet
30X40's Design Process Guide
Site analysis template + sample
Parcel Review Template + sample
Program worksheet / template
Presentation template + sample schematic presentation
Email templates (6-page PDF)
Anatomy of an Email Campaign Cheatsheet
Success metrics worksheet
Scope document (sample)
Code + Zoning checklist (sample)
30X40's Video production workflow + checklist
30X40's Business Folder Structure
Video lectures include a "homework" section + additional contextual resources for further study
Content is updated regularly (i.e. - Case Studies)
Click the arrow to see the full curriculum.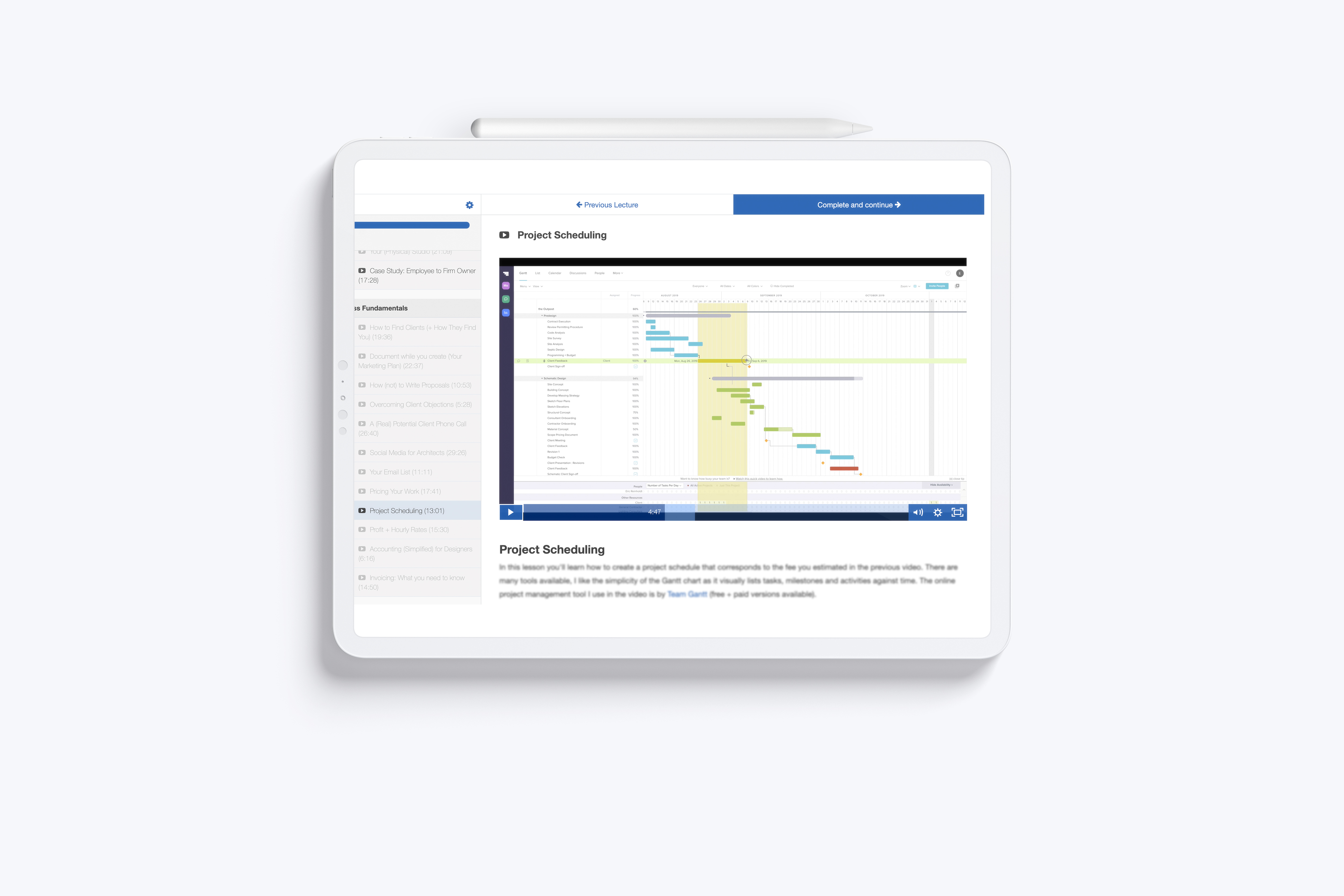 When you're choosing to invest in a course or coaching to improve your business, to find better clients, or design a life that's more congruent with your values, you want to learn from an experienced instructor. There's a meaningful difference between someone who simply teaches principles and someone who has actually implemented those principles in the field, to find clients and generate passive income. I know what works and what doesn't because I've done it. Learning from my mistakes will put you ahead of your competition.
Need more proof? Check out my work here.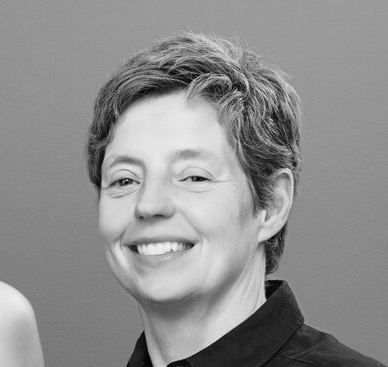 "I run a small architecture firm in Canada and it has taken me over 11 years to learn the topics you cover in this course. I don't get time to think about my practice and this course really helped me look at every aspect of my business and ask questions and reconsider how I do my work. You are extremely talented and a great teacher. You put so much care into everything you do. I recommend this course to practicing architects, students, and anyone running a design business. I'm excited to take more of your courses."

- Lisa Tondino, Co-Founder, houdinidesign ARCHITECTS

What others are saying...
"I'm going through your A+E course, and really getting a lot out of it. I've had the idea to sell plans for years, but having these details gives me what I need to finally get it going. Thank you for putting this together!" - Matt B.

"I have to say, I'm so impressed with your course. It took a while to clear up my schedule and have the time to invest in the course, and I certainly wish I'd purchased it sooner; it would have been so helpful day one starting my practice! Thank you for all your efforts creating this! - Jennifer R.
"For someone who can relate to the isolation of sole proprietorship, it's a blessing and a joy to welcome you into my own studio, and it's an honor to learn from someone such as yourself. The detail, the topics, and the content, such a beautiful composition of life, work, and play. Thank you for making things, and making them well." - Will A.

"This information is priceless, it exceeded my high expectations!" - Jeremy S.

"Amazing and thank you for everything. Loving the course. You didn't have to make it so valuable but you did and that speaks volumes. A wonderfully comprehensive survey of a solo-designer/ entrepreneur's successful ecosystem of systems." - James H.
"Very impressed with the professionalism, quality and level of detail in the course." - Jeremy S.
"Incredible content, thank you so much!" - Nestor R.
"I'm just getting my small business started but I wanted you to know this little business is a result of your course! I've enjoyed it SO much. I'm still working back and forth through the content. Thanks for being so generous with your experience. The course has been invaluable. Keep up the amazing work!" - Magali B.

"I'm loving the course, it's filled with so much amazing + inspiring content on so many levels! Thank you for consistently elevating your audience + challenging us to be great at our craft." - Katherine H.
"This course has helped me fall in love with architecture all over again, thank you, Eric." - Nancy M.

"I wanted to thank you for all that you do. As an architect, sole practitioner, and lecturer at the university level, countless times have I resorted to your methods and recommendations, to forward my pursuits, and those of students." - Alicja H.

Your Instructor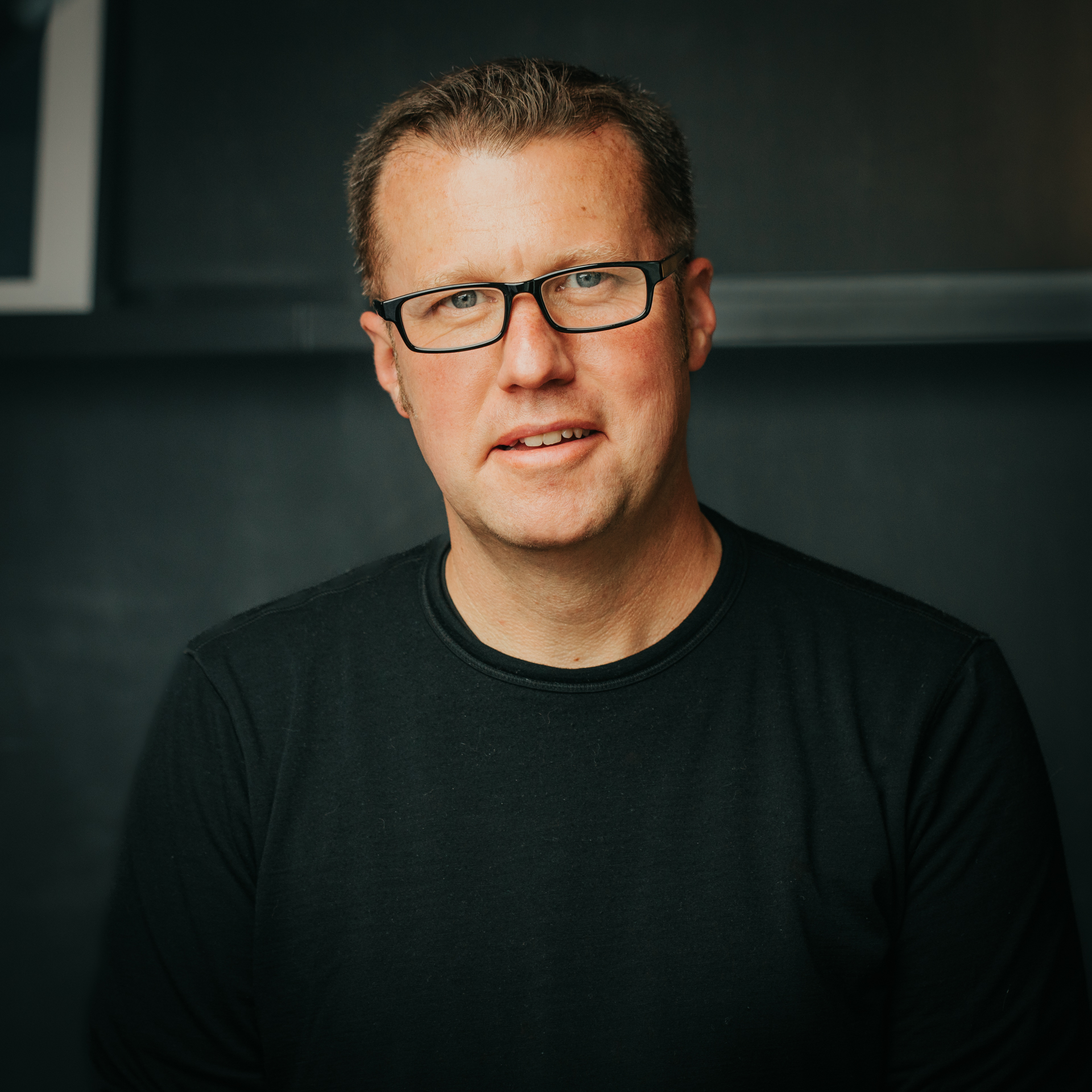 I'm an award-winning architect, entrepreneur and founder of 30X40 Design Workshop, a design studio located on Mount Desert Island, Maine. I'm also author of the Architect + Entrepreneur book series and creator of the most popular architecture-focused YouTube channel online. I've been designing simple, modern residential architecture for more than 25 years and a practitioner of all the novel, entrepreneurial business strategies I teach in my courses.
(More about me in this short film.)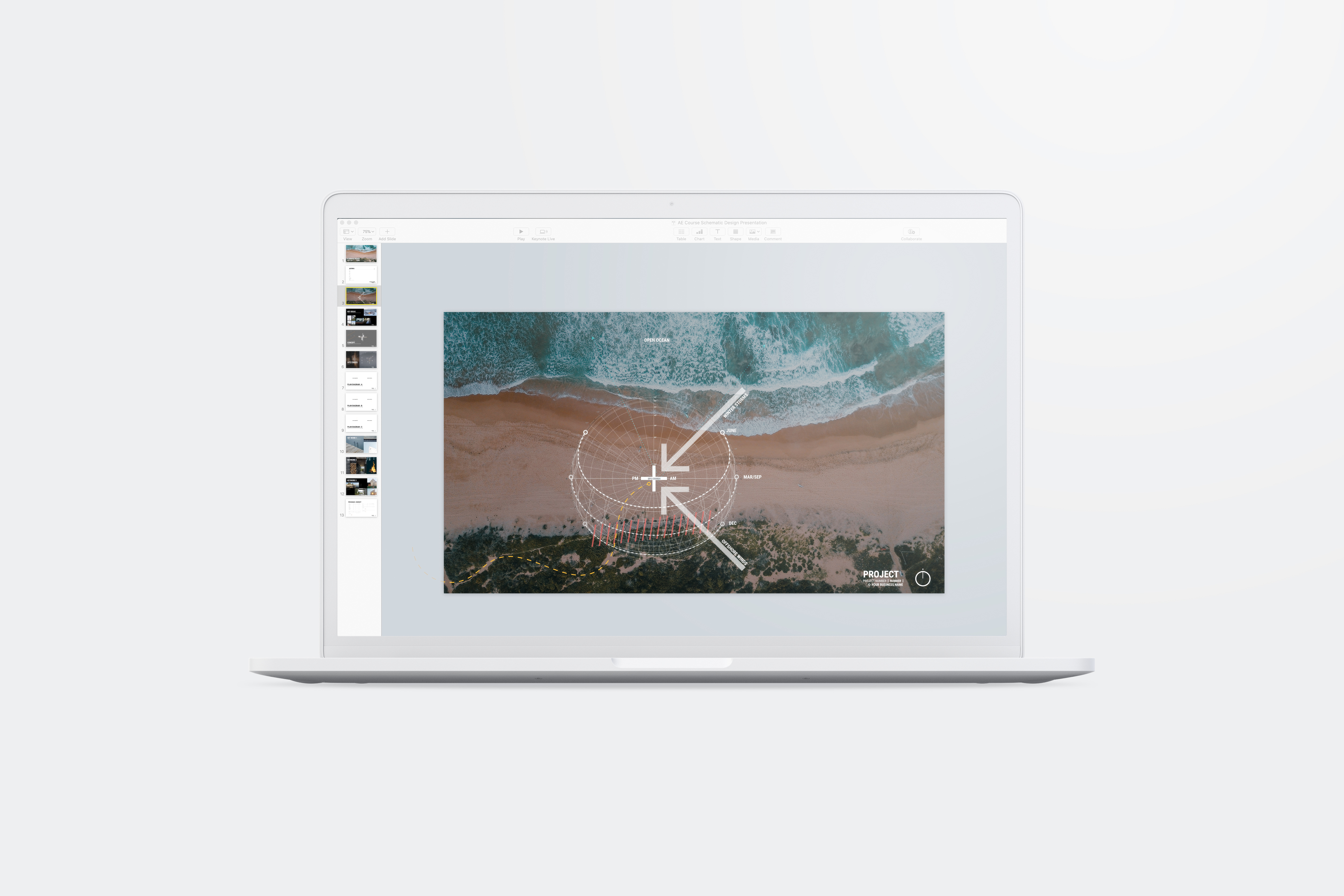 Frequently Asked Questions
When does the course start and finish?
The course starts now and never ends! It's a self-paced online course which allows you to decide when you start and when you finish.
How long do I have access to the course?
How does lifetime access sound? After enrolling, you have unlimited access to this course for as long as you like - across any and all devices you own.
Will I learn architectural design principles?
Although you'll see some of my architectural work in the course, this isn't a course on architectural design.
I have an architecture practice already, is this for me?
The principles of entrepreneurship taught in the course can benefit every business. If your practice isn't attracting the kinds of clients you want or you're not earning what you think you're worth, the information here can help make the change you're seeking.
Does this cover construction too?
It doesn't unfortunately. To convey all there is to know about constructing architecture would require a stand-alone course. It's a crucial part of the process, but one I couldn't do justice here.
Is the content US/North America focused?
No, the course is designed to help you build a sustainable creative practice no matter where you live. You'll learn the principles of entrepreneurship and I'll show you how to leverage the Internet to build freedom in your creative practice; neither of these are constrained by geography. The lesson on business structures addresses taxes and takes special care to note potential differences between where I practice in the US and where further localized research may be necessary on your part if you live outside the US.
I've read your Architect + Entrepreneur books, how is the course different?
Although the principles are similar, the course teaches you - through a series of video lessons - how to implement the strategies described in the books in real-world practice situations. In addition to the video lessons, you'll find graphics, custom designed documents, templates, handbooks, curated resources + bonus materials that aren't available in the books or the Architect + Entrepreneur Startup toolkit. The format of the course allows me to illustrate the strategies with tactical, actionable steps, examples and case studies.
I'm a...( Student, Landscape Architect, Interior Designer, Engineer, Draftsperson )...is this course for me?
Ultimately, you're the best person to judge whether you can adapt the content of the course to what it is you're hoping to do. There are aspects of the course that are very architect-specific and others that are more broadly applicable to anyone hoping to adopt a more entrepreneurial business model. The best place to evaluate whether it's a good fit is to watch the course unboxing video above. If you're a design professional or in the related building trades, you'll know that precious few are willing to candidly share what's working in their business and what isn't. I've built my brand on sharing high-quality, actionable, and beautifully curated content online. This course offers everything I'm not able to share publicly. It's an insider's look at the inner workings of my business so you can learn what works and what doesn't. And, what's better than learning from the mistakes of others? You'll discover how to apply the concepts of entrepreneurship and leverage passive income alongside client services work in real world practice situations. If that's of interest, then this course would be a good fit for you no matter your vocation.
Does the course show how to put a set of architectural drawings together?
No, it does not.
Does the course include the Startup Toolkit v2.0 too?
No. It shares some of the same resources, but the Startup Toolkit includes unique content that the course does not. The best place to compare the two is on the course description pages + unboxing videos.
What if I start the course and find out it's not for me?
I know you're going to find massive value in this course, I've staked my brand on it. Because the course contains dozens of digital goods that you'll have access to immediately upon enrolling, it's my policy to not offer refunds. If you have any questions about what's included, or whether it's a good fit for you, reach out, I'm more than happy to answer your questions. You can reach me here:
[email protected]
What's the difference between the Startup toolkit + the A+E Course?
The toolkit and the course overlap in a few of the content areas, but each has unique material that the other doesn't include. As you might expect, the A+E course includes significantly more content, trainings, resources + materials than the toolkit. The best place to compare the differences and everything that's included is to look through the curriculum pages and watch the unboxing videos.
How will I receive the assets?
You'll receive immediate access to all lessons + downloadable files upon purchase. Each section includes a variety of resources: video, text, links to resources for further study, and of course downloads. The video content can be viewed inside the course's integrated player window.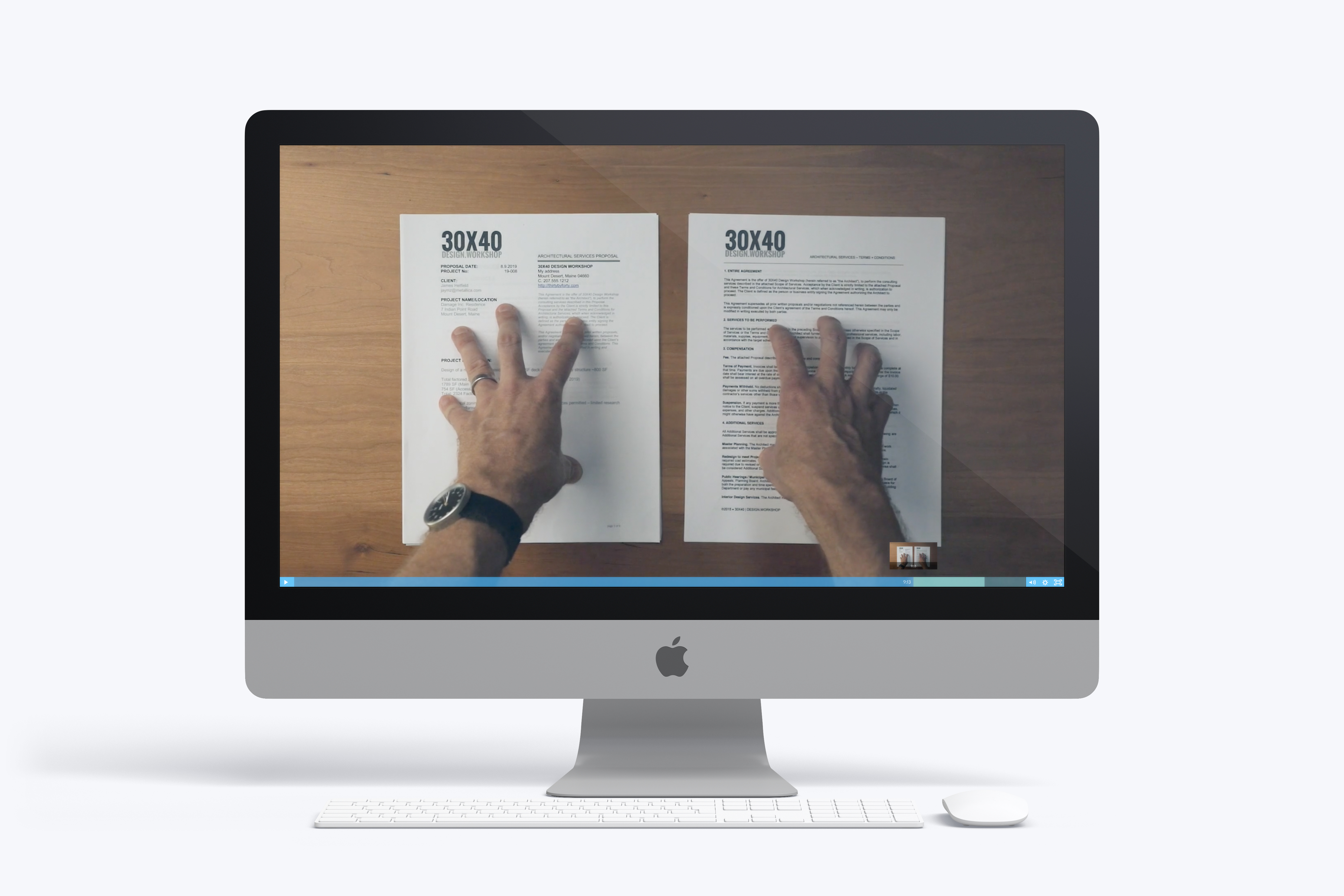 (Even) More Testimonials...
"Thank you for the amazing course...I absolutely love it!" - Melissa B.
"I simply want to express how much I appreciate your educational materials and course. Very excited about completing and implementing the toolkit and course work, and will be happy to share some of my success with you as it comes. My latest is I just landed my first ground up waterfront home project in Maryland...very exciting!" - Will A.
"You've been a massive inspiration in me taking the next step to running my own architecture business. Thank you!" - Mark A.
"We have run a small firm, in Nova Scotia, Canada since 2010. We are taking the A & E course and think Eric really understands architectural principles. He has been able to do excellent architectural work and build a thriving firm. We are only interested in taking courses from architects who really understand the architectural process and do great work. What is amazing about the A & E course is an inside view on how Eric manages the business of architecture. We do not get this education in architecture school and it is essential when you run a firm. We have many similarities and some important differences from how Eric runs his firm. We will be implementing many of his recommendations. There is a huge amount in the A & E course that would have saved us many years of having to figure everything out on our own. I highly recommend taking this course to anyone who wants to, or is, running an architecture firm. We only wish we found this course earlier." - Lisa T.

"I wanted to express my appreciation for your work, style, and the resources you've provided, it's everything I need." - Will A.

"I feel like you made this just for me. Thanks for structuring the process, excited to see how this goes." - David B.
"I can't recommend this course enough to get you set up on the right foot. Eric's Course helps you focus on the why and who you are first, then on to setting up the structure of the practice all the way through to SOP's with email templates all of which saves you hours of time and effort in creating your own. And, the passive income ideas and tracker builds on Eric's previous A+E Books." - Barry B.
"Loving this course and the variety of topics covered...helpful, interesting and motivating!" - Sam S.
"I'm really enjoying the course, what an amazing experience...thank you!" - R. Prado
"You've produced an amazing resource that I've recommended to many, thank you!" - Aaron S.
"Thank you for sharing so much or you talent, time and resources. You've introduced me to new concepts, perspectives and approaches that elevate my thinking. " - Michael F.

"This is a great course. Lots of effort clearly put in, I'm enjoying it immensely!" - Scott W.
"I love all the real life examples, they've been useful in understanding how certain strategies apply in practice. I had a contractor interview last Tuesday, and I jumped into the contractor interview video and followed your lead. I appreciate that you're transparent with the process both the good and the bad." - Jon I.

"I'm implementing your strategy + advice and already seeing results." - Nate T.
"Immersing myself in the course and it's amazing. I find your teaching pure and honest, it transmits quality and value." - Tim K.

"I've been through the course multiple times and find myself referencing it each week. There's a great mix of downloadable guides, tips, tricks and tutorials. Favorite parts were the lessons on strategy which helped me think differently about the fundamentals of my practice; ideas that I had but didn't fully understand, defined for me in a way I could comprehend and incorporate into my business." - Ben N.
"The course is very well put together. It contains a good amount of content that not only gives you an insight in what it means to run a one-person architecture studio, but at the same time asks you questions that will help you to clarify a clearer picture of where you want to go and the path you want to carve out for yourself as a creative. In addition, there's a collection of resources included in the form of, among others, documents and workbooks that could form a basis for next steps to take on your path. What I enjoyed about the course in particular is that it will not do the the work for you, but encourages you to embark on a journey and acts as guide along the way." - Jason M
"Thank you, for sharing your experience, and insight...I find it inspiring, educational, and easily relatable." - Michael R.

"I've been qualified as an architect for over 5 years and a few months ago left to set up my own practice and try to make it on my own. I just wanted to say how rejuvenated I feel and inspired thanks to your content!" - Mark Y.

"Your content and the additional resources inspire me to get going on my own adventure and stop working for somebody else's dreams. This course delivers. I hope to follow up and become one of your course's success stories. I am now making things." - David M.
"Thanks for sharing and providing experience in such a great course. Really good job on such a large task, providing a wide range of topics and resources. I think the course besides giving a wide and diverse global perspective on both business and architecture, is well balanced and suited for all levels, digging in when necessary and in an incremental way which, to me, brought not only a clear understanding, but interest to the narrative development as well. The best part is the hope you inspire to follow personal dreams. Congratulations on such a valuable work! Best wishes and please keep it up!" - Carlos L.
"Eric, I'd like to thank you for being so willing to share all of your hard work so freely and openly. The course exceeded my expectations and, I've moved from start-up to earning my first clients in no time. If you're a Student, Intern or Architect at any level, and you're thinking about starting a practice, I highly recommend this course!" - Kevin U.

"Having your content and tools to work with and focus on right now is such a blessing. Thanks for all the brilliant beautiful work you're doing, and for sharing the path." - Sherrilyn A.
"This is a fantastic resource for anyone looking into starting a practice. Eric's passion is evident and so is his experience. The course is well-organized, easy to access and get back to at any time. Each topic within is supported by a variety of techniques to get the points across from texts to videos to downloadable files and references. Importantly, you have three critical aspects rarely addressed together: inspiration, techniques and reality check. Invaluable." - Hervé J.